This blog is about experiences, knowledge and vibes I would love to share and keep in my memory archive. May you find a place in this blog, achieve and explore more.
It is a 16 Min read, Plug in to good music 🎶 and have a cup of coffee ☕
TL;DR
Microsoft Won my heart again ❤️
Enhance Leadership skills
Some points into Data lineage tracking
Communities
Student devs ideal routine
Importance of Culture within an Oraganisation
Learn about hosting and shipping developer experiences
---
23rd January 2020, Can't forget this day my entire life. It's been 2 years and 6 months in MSP Community and I've got the opportunity to represent 700+ MSPs in India Region.
MSPs are talented students on their way to represent innovation and lead future in technology.
**flashback 2017**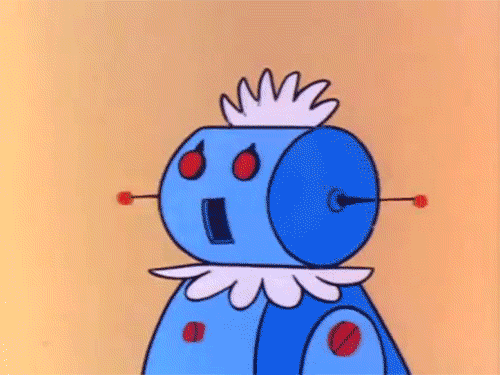 (Alternative-text: aka 19 century bot mumbling 500 Error Code)
When I started learning ahead from C++ I was amused by natasha Bot (an AI chatbot in hike messenger app). By following Microsoft Devs on Twitter I got to know about Microsoft Bot Framework and I started learning NodeJS in 2016.
I was invited to Microsoft Office, Gurgaon in 2017 where Sudhir Rawat was giving us insights into insider tools and sharing AI cognitive Services, where I already had my homework done and felt Microsoft already had a place in my heart.
**present 2020**
Got dressed up in suit (first time ever, otherwise coders तो चड्डे में भी आजातें है (coders come in knickers, tvf pitchers TV series reference) ), wearing decent scent and booked a cab to ofc, the destination. Was about to pack bags but thought we were already going to get one so didn't, just carried a note book and a book to be gifted to my favourite influencer.
I was taking slow steps and for every step I felt my heart jumping out of my body, just thinking, omg the people I am gonna be surrounded by, are one of the finest student devs and India's best community builders and are were driven by same passion I live my life with.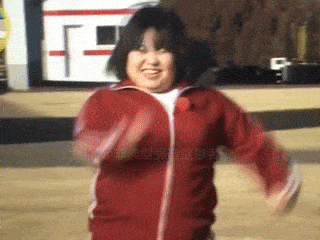 (Alternative-text: Excitement levels )
Was about to enter the gates and encountered heavy security outside, hell no, I forgot my wallet and had no valid proof that I am an Indian citizen (#delhiwalascene), and for that moment I thought maybe in too much excitement people do lose their peace of mind (I've lost my passport once at airport, left all my luggage at Starbucks once and I have losing things in my habits lol) . After a long discussion and showing the guard a scanned copy of aadhar card, we both agreed that I should be allowed inside.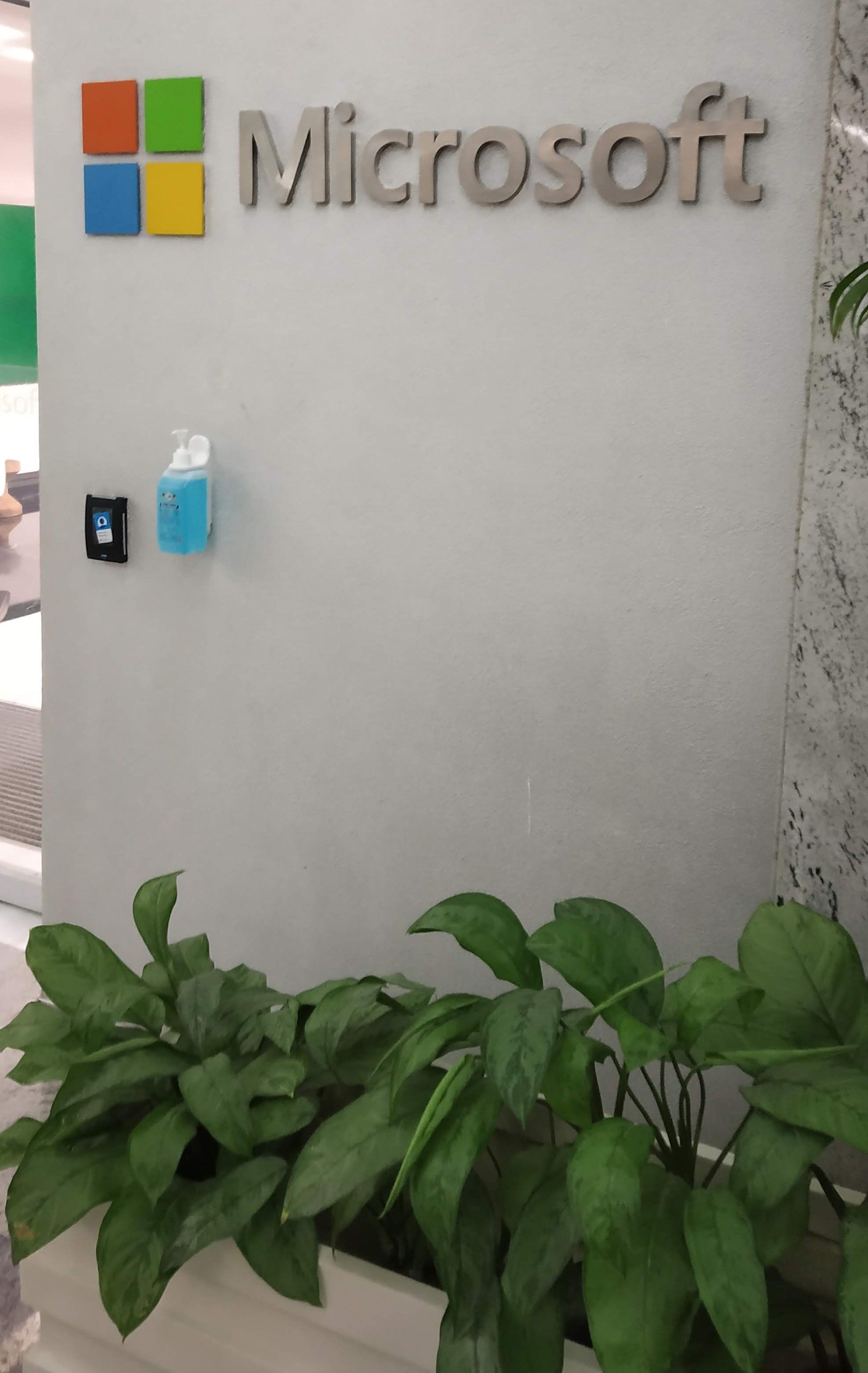 Walking, pumping and jumping I boarded the wrong lift and changed it again to reach at Same floor I visited 2 years back. I saw the gleaming and shining Microsoft logo with hand sanitizer outside the gate, I took slow steps inside thinking about whom to interact first.
**Flashback 2017**
MSP forms are now online and all students can apply, almost 500 students from my university applied to the form, 20 got selected (I was one of them).
I did not have a laptop at that time, I was learning from someone else's laptop when he was not using it.
I got elected by live coding a echo bot on framework v2 and got into the program and said hello 👋 to Azure 110$ credits per month and I am getting those from 3 years and think about what someone can learn just by clicking (Restless kid) every button in Azure portal (I always fell short for those credits 😂) .
My dad then gifted his MacBook pro 16" to me, i7, 16 GB RAM, I was sailing on performance and developer environment and already had my mind to develop web and Microservices on azure.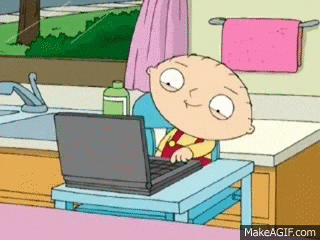 (Alternative-text: Excited kid on Learning new things)
I being a curious kid gave feedbacks to teams and by giving those i got to know how the things were working internally. I am a big fan boy from Windows 98 and also my first phone was lumia 535. I Still use Microsoft Launcher, SwiftKey, todo, for personal, and see my personal mail, I have a live domain email id.
**Present 2020**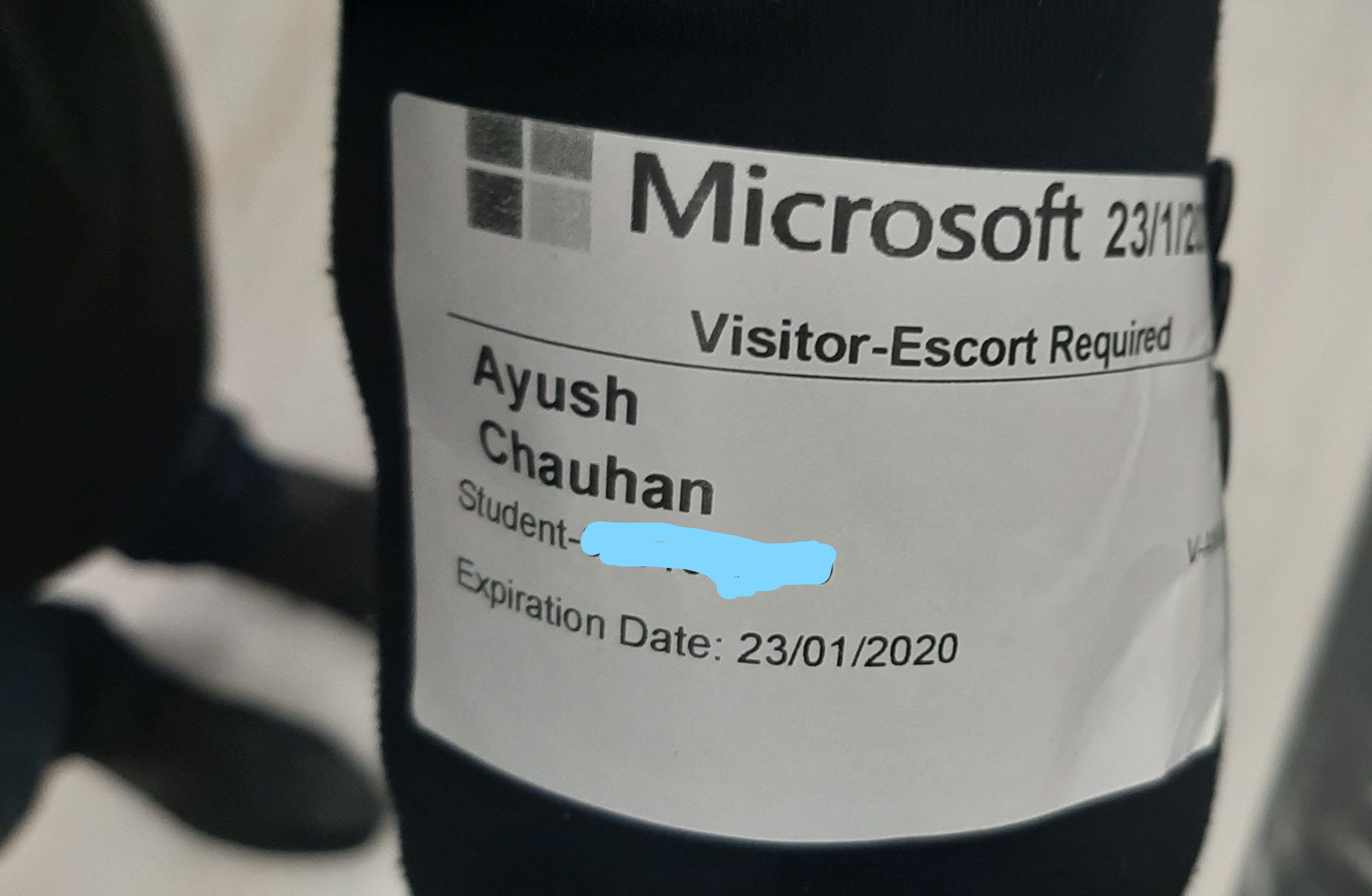 (Alternative-text: Reached Microsoft)
Reached at Reception and saw my name in invitee list, omg VIP feeling 🚀. Kept i walking in, saw Xbox and surface devices lined up, giving my 50% attention there, I kept moving and saw a foreigner sitting and interacting with a youngster.
Getting closer I recognised the face, and omg it's Pablo (not escobar) and he was listening to the guy with 10x energy than that of the youngster. Omg omg same guy who goes hosts amazing calls on teams and master mind running this program is actively listening to feedback.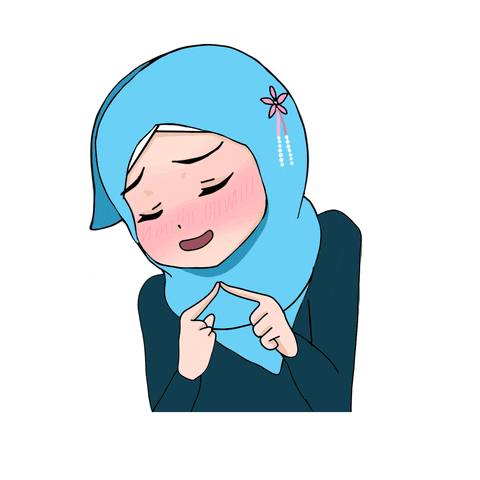 (Alternative-text: I am a lil shy guy )
And look at me, A MSP who has hosted around 30 events and talked to audience of 1000s can't even say hi to someone he admires (face-palm moment).
There you go Ayush, you've executed this.shyMode(true);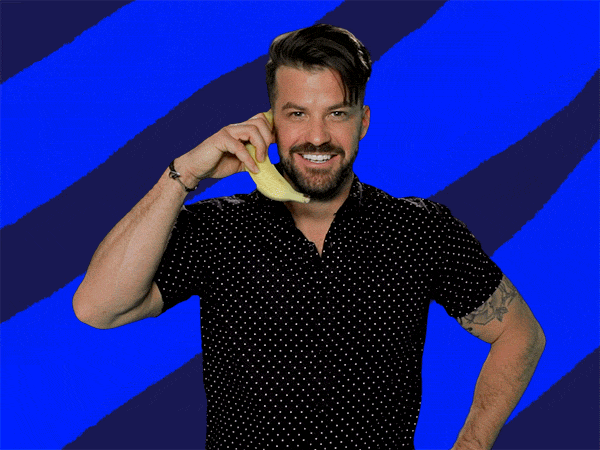 (Alternative-text: Calling bro to come fast)
I ran back to hall again, called my colleague (sukhman) 2-3 times. "Where are you bro? Pablo sir is interacting with students live, just come and we will go in together."
Feeling bored I Went to all surface devices, wrote "MSPs were here" in the sticky notes of every device. Then I started looking for the influencer captain, Arko sir. And started interacting with anyone who was younger and asked are you also a MSP, started meeting homies and discussing over localities, backgrounds and ofcourse technology.
Its 11AM now, my colleague hasn't even come yet, how will I ever interact to people 😭. The event started in the conference room and everybody is introducing themselves, what should I say, what should I say, and I ran out of breath after saying HI.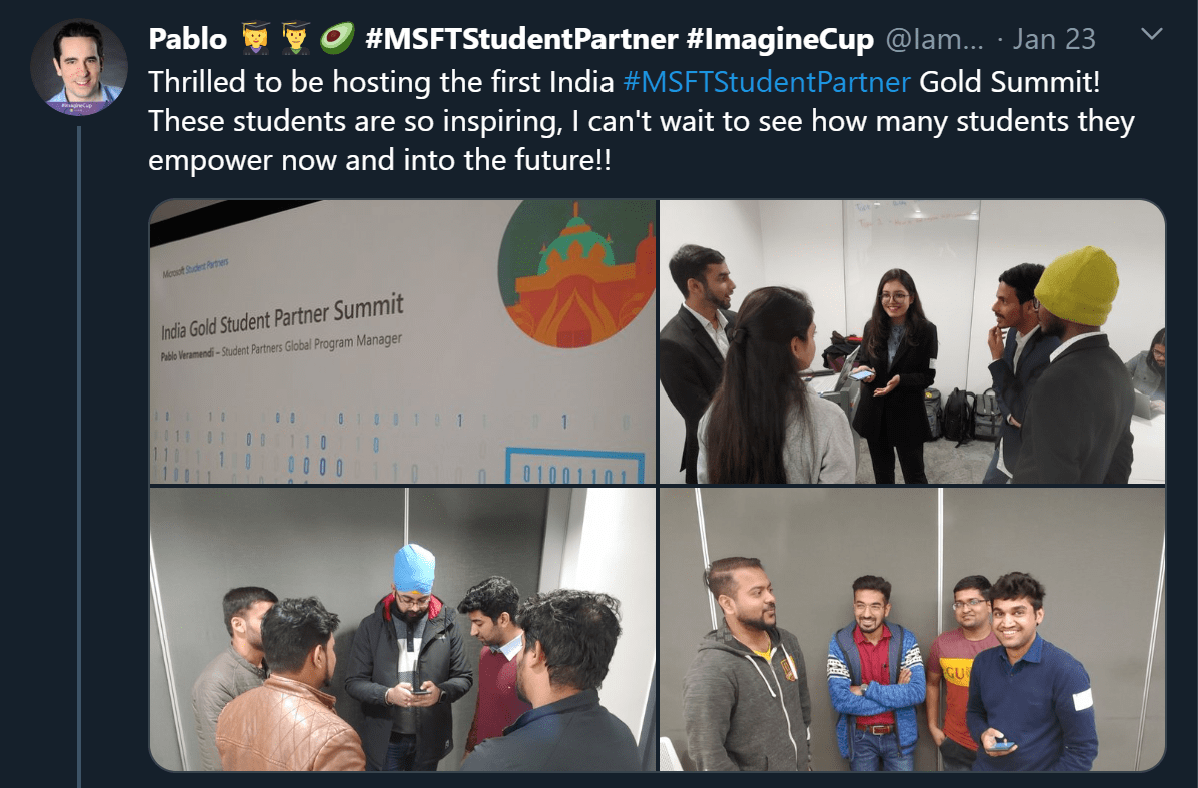 (Alternative-text: Pablo Sir's tweet on while IceBreaker activity )
Nvm, the event started with two fun activities that built greater relationships and interaction within 10 mins and after that everyone was talking, sharing and listening active feedbacks in a team manner.
There you go Ayush , this.ListeningMode(true);
After sometime, I saw Arkodyuti sir entering the room, I was a follower on Twitter, he lives in skies, travels to awesome places, teaches and mentors Azure to students and hosts amazing hackathons all over India (also tweets about cooking food sometimes). Chill guy, I am moved by Microsoft Advocates and shoutouts to everyone being on Twitter and being role models for us.
First time I saw Aparna Mam I thought she's too old to be a MSP, then I got to know omg she is the Community Program Manager for India region.
I saw one guy dressed so cool, nicely groomed and maintained long hair, Levi's jacket and he was looking like he should be on the Forbes, partly looked like bhuvan bam lol, yes it was the community guy (Paras Pundhir 🎉).
We then had food in gold spoons 😜 and got ready for sessions.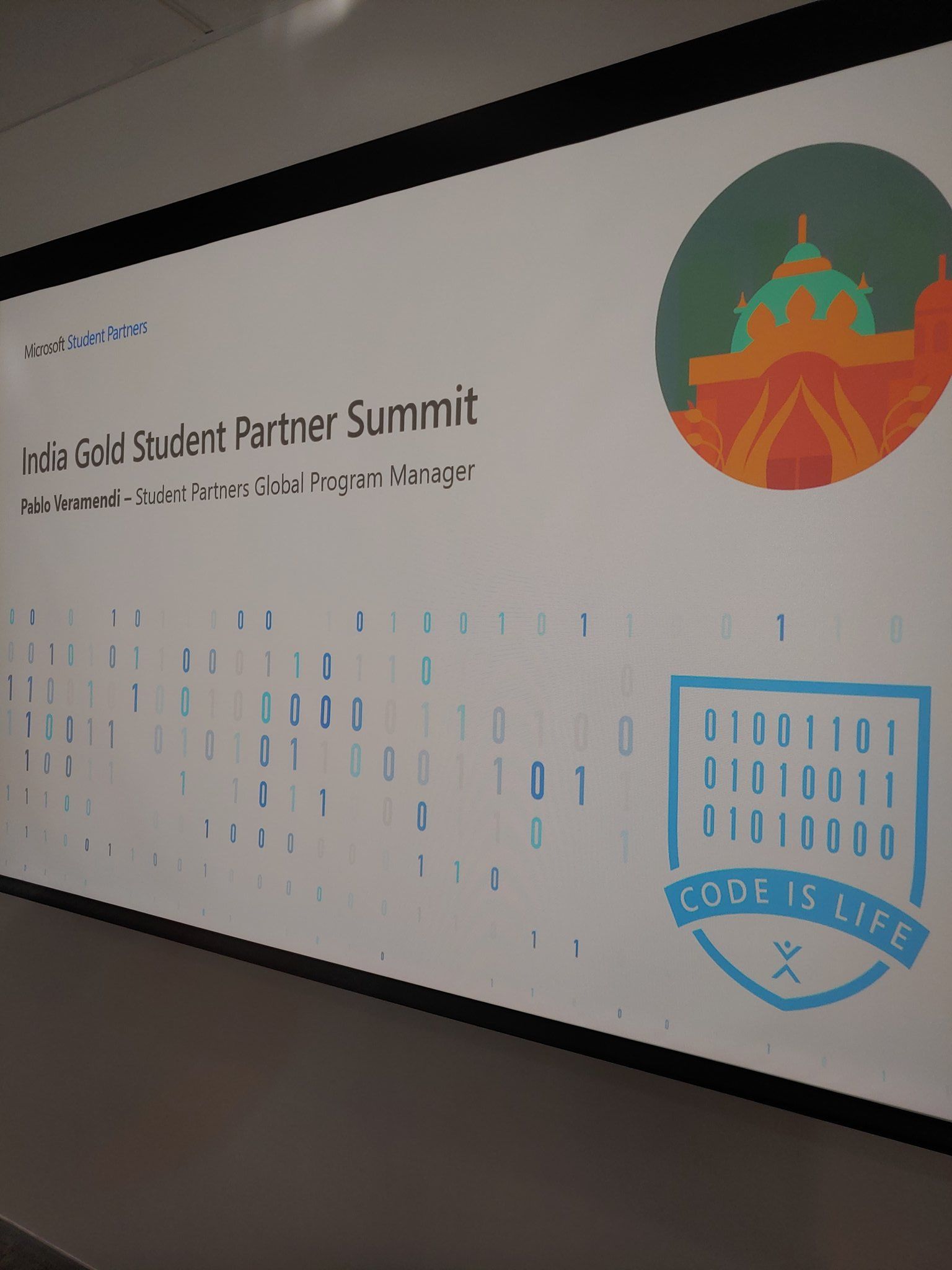 (Alternative-text: First Slide, India Gold Student Partner Summit)
Pablo Sir, stated valuable points in his talk that helped my core values to grow and rethink. The talk was about empowering Others (Microsoft ♥ ) and take our leadership skills to next level.
He asked what tech are you passionate about? Passion is always Visible.
What can you do for others? For us it was directed as How can you empower community.
The only person that defines you, is you.
Build trust and lead by example. Here's a link on leading by example and it does help building a great leader from within. I take श्री Bill Gates as example, a coder who built a culture that defines what Microsoft is now. Pablo also mentioned how trust and community go hand in hand.
Help others discover thier passion.
His Passions were cars, Tech and Students, he discovered all his Passions and now he is leading Microsoft Student Partners program globally.
I felt Spiderman's lines once again, with great power comes great responsibility 🔥.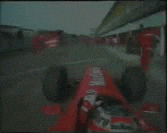 (Alternative-text: Developer's le mans aka Hackathon)
Arkodyuti sir came and told us about shipping great developer experiences.
Developers gig? It's hackathon 🎉
Hackathon is a developer's Le Man's (24hour car race 🏎 ) where a team works, resolve issues.
Building Scalable solutions helps. I believe we all need to craft experiences that are inclusive and diverse so that we can drill more into scalability. For scalability I thought Kubernetes will be great, but it's deep when read between lines.
X-Factor of a hackathon is developer experience. Literally I won 8 hackathons and lost many of them, there are various ways which scratches minds of developers (might be coffee or Wifi or not enough transparency in judging or rules).
Ask Devs. Yep, not many people fill feedback forms and no one will care post event. Devs need to be asked where the help is need the most (aka hackathon).
Adapt and Evolve to tools. (To every night you sleep, there's a new js framework lying around, a new library, a new tool with some pros and cons. I always try to learn best of them after reading about their feedbacks and seeing the developer community).
Create a culture (this is a big big point and it did take me to a flashback, will tell you this at the end of blog because someone had whole presentation on this). There's a lot beyond wireframes, POCs, Docs and MVPs.
No company or Startup would have happend without a vision.
Consider your hackathon project project as your own startup with a vision.
Then someone entered whose name was unheard and I saw a poster aside me saying "how W I D E is your perspective" and I felt maybe I am beginner or the world is way way bigger.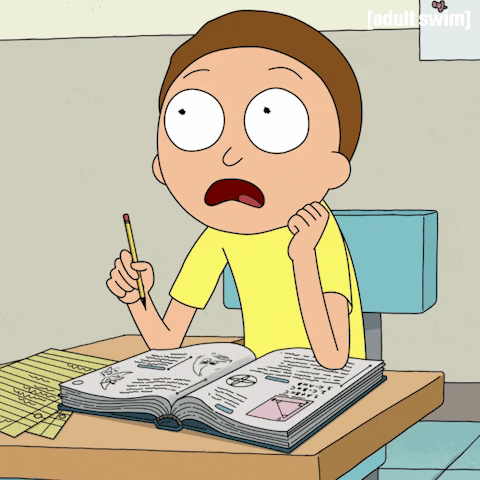 (Alternative-text: Eye Opening thing happened )
**Flashback 2018**
2 days before pitching my startup idea to 50k ventures, while running databricks on HDInsight VMs and Some Streaming jobs on Kafka, some errors arrived and after wiping my tears I went to sleep.
Next day while packing up I remembered that I forgot to shut down my VM (biggest face-palm to lol MSP), burned all my credits in a single night.
After lockdown Azure didn't let me access my VM or code 😭 and had to recode everything once again and hosted on my MSP friend's Azure account (students don't have Credit cards (Pay as you go) , neither you can move resources to other subscription.)
**Present**
Reenu Saluja mam enters the room and speaks tech words I never ever heard of, DATA LINEAGE TRACKING.
Lineage is knowing the source of data and governance is controlling of data that industries do these days (no one tells that in courses or videos and I feel knowledge needs to be found on internet, we just need great search queries and great mindsets).
Get insights of Data

Balance opportunity and security Rise.

My favourite slide ( sorry for the low res )

(Alternative-text: Architecture Diagram of Data Lineage tracking tool, using Apache Spline, Kafka, Databricks and Apache atlan)

It involves process, people and technology together.
God I want to do meaningful contributions to those tools and build future where devs rely on my code 😭, only industry will teach me 😢.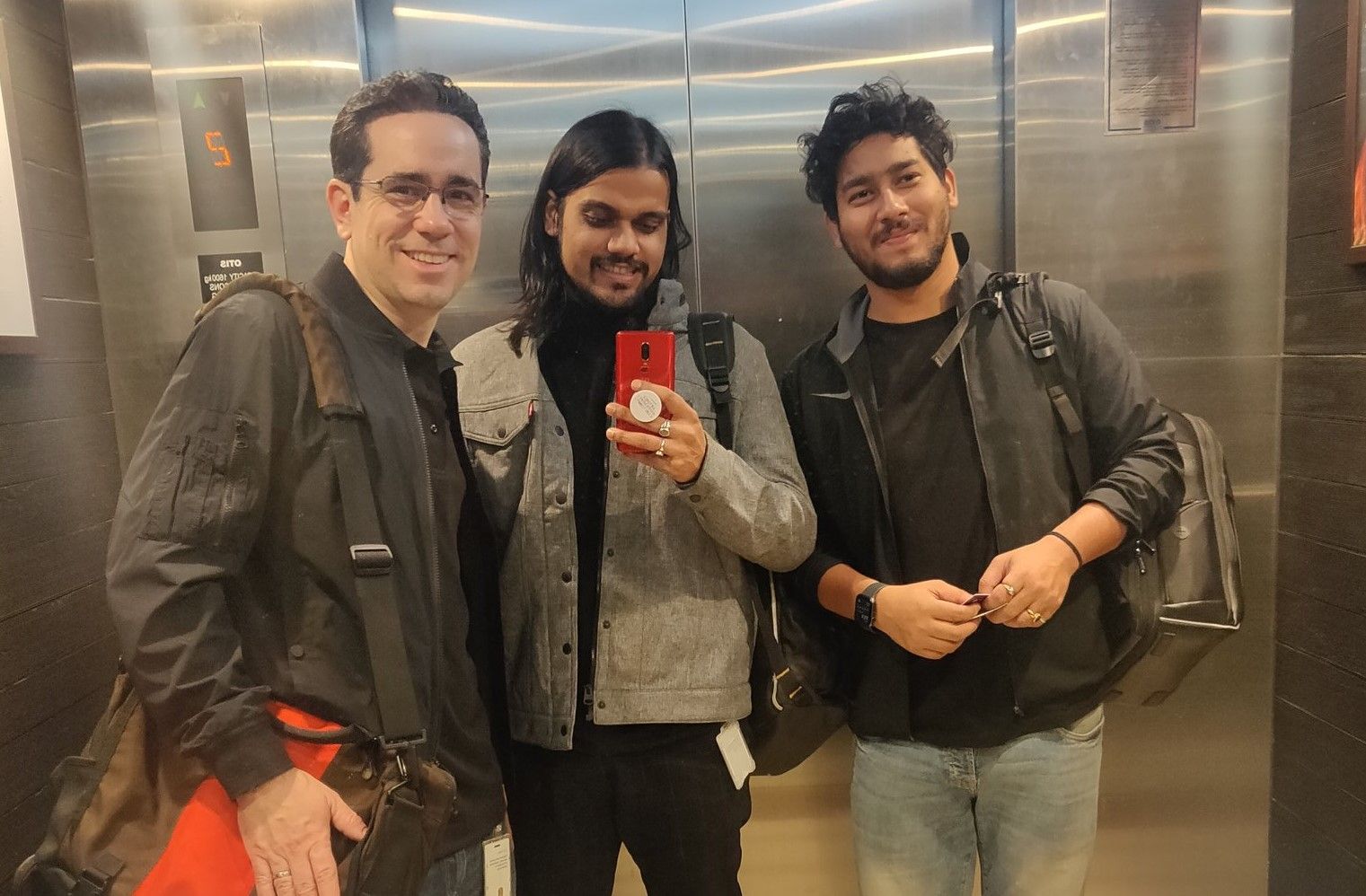 (Alternative-text: Paras "SIR" with Pablo sir and Arko sir )
Next up was Paras Pundhir,
Getting up the first thing that caught my attention was him using Notion. Notion is a tool to organise, write (this blog too is written on notion) , todos and he had a well decorated page on himself (so cool).
Common + unities = communities

(Alternative-text: Thy Community Building is Important)
(Alternative-text: Why Building community is Important? )
I asked him, "how to retain members in community so that they build a connection and join us again?"
I felt his answer, "Do you fill feedback forms? Do you think someone will fill that? Ask this to members, what do they want and are you fulfilling thier expectations"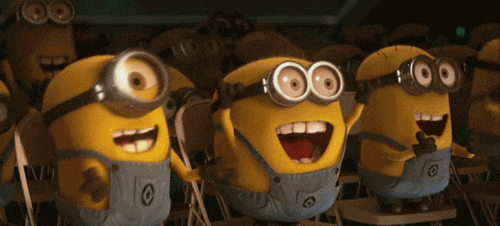 (Alternative-text: Minions and Bahubali )
Yep, I know you are fuelled with knowledge and can't absorb more, right? I was feeling the same but wait just one Moree.
Dhananjay Kumar takes up the stage,
He asked us what's your biggest challenge and told us to write them.
After 5 mins, I ended up writing "waking up & getting back to sleep"
He mentioned some names
Winston Churchill
Thomas Edison
Charlie Chaplin
Soichiro Honda
Walt Disney
Albert Einstein
JK Rowling
Oprah Winfrey
Fred Astair
Please search on internet about names you don't know. These were people who had thousands of challenges and they made it.
It reminded me of a quote by Robert Frost, *the only way out is through.*
Your perception defines you.

(Alternative-text: Getting Better is only way to be Best )
---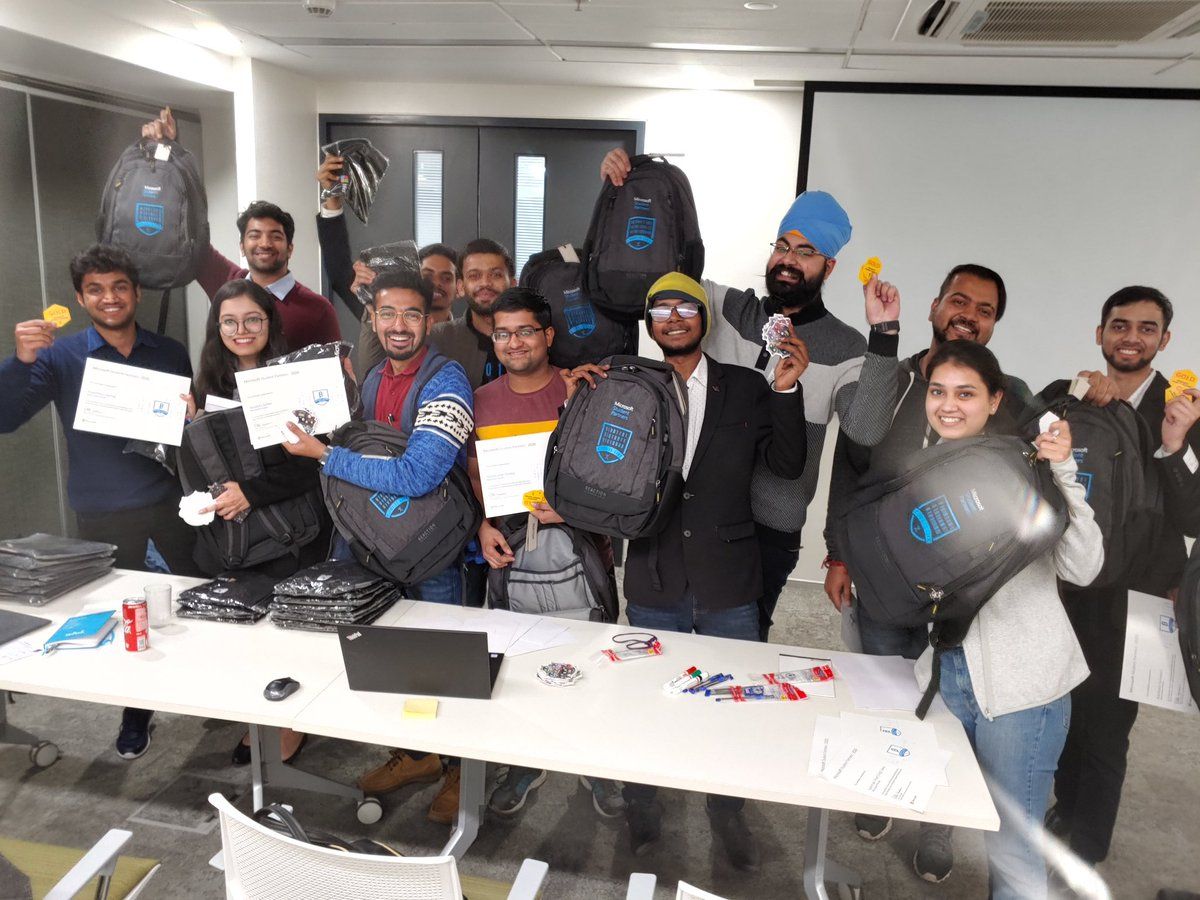 (Alternative-text: Gold MSPs showing off swags)
**SWAAAAAG TIMEEEEEE**
Pablo Sir got 200+ stickers for each one of us (coolest MSP Swag), A kenneth cole reaction bag with lifetime warranty 🔥, shining MSP Gold Sticker.
Aparna Mam had some of the coolest swags I ever encountered, a Microsoft pen which was also a stylus, a phone holder, a screw driver and ofc a pen. Also a Fidget cube to keep your attention out of your phone while working and a bag and a t-shirt.
Arko sir got us Bit Community Stickers, and a Microsoft T-shirt ❤️. Omg i waited so long to recieve a bit, kudos to Ashley for designing bit.
We got 200 stickers, 2 bags, 3 tshirts and lots of Swag, it felt like all of those swags were given out collectively after three years.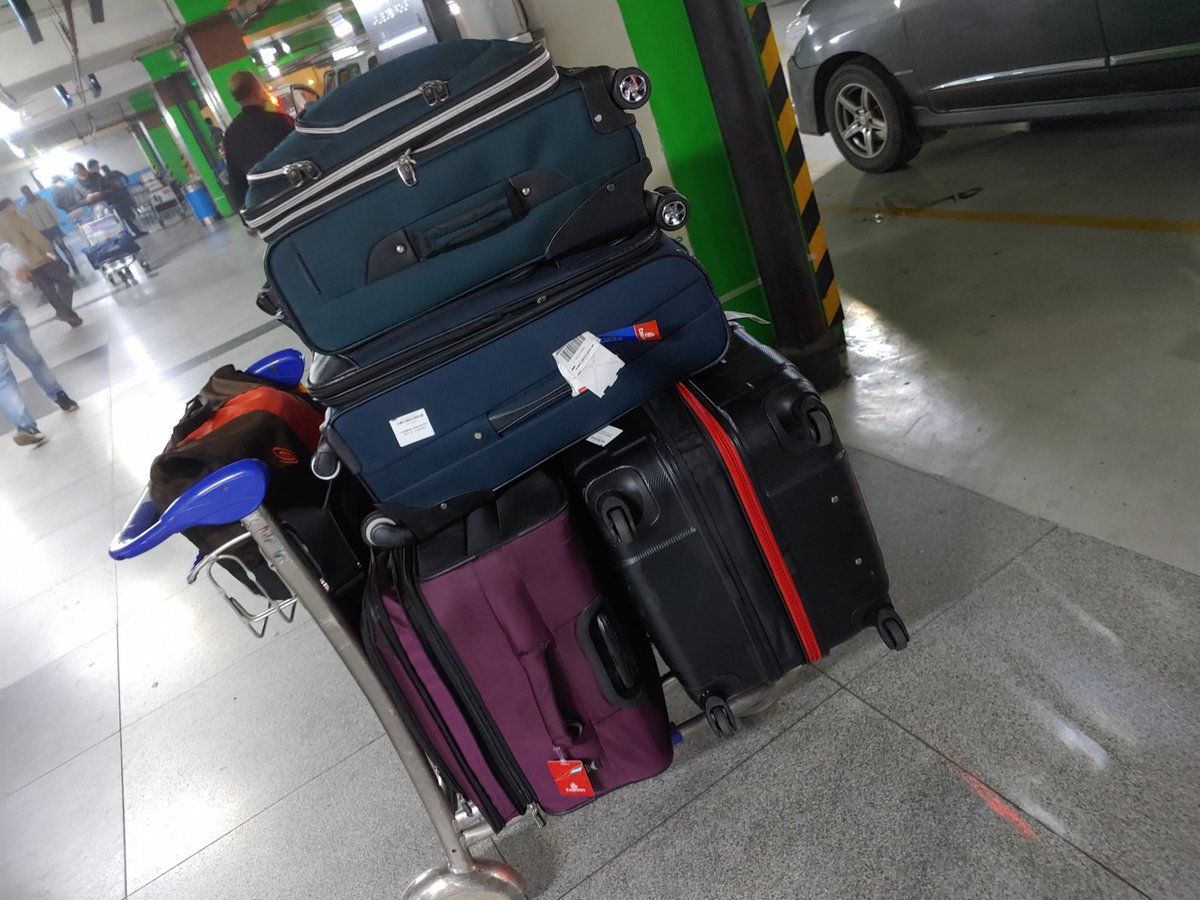 (Alternative-text: LOL Loads of Love)
Thankyou so much carrying load of love to MSP Gold and India Summit.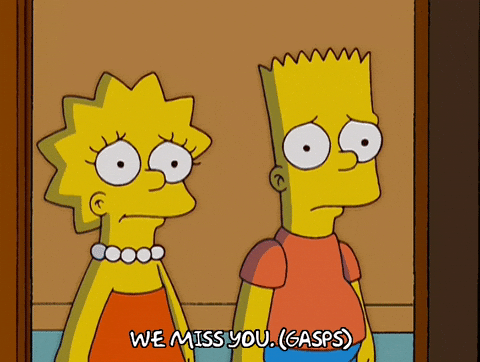 (Alternative-text: Gold MSPs missing MSP OPs team)
This was the moment where I missed some people I literally wanted to meet, Susan Ibach, Angela Carlson and Tracey ❤️ and wonderful MSP Operations teams replying to mails with great energy enthusiasm and solve everyone's query and help us in the journey. These are the backend APIs that made the MSP UI beautiful and encouraging to go ahead and lead.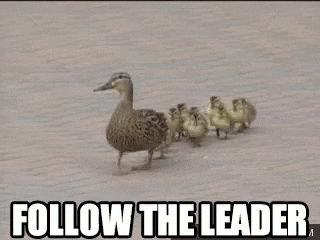 (Alternative-text: Gold MSPs Following the leader)
Event wrapped up, everyone was following Arko to the bus 🚍 outside campus.
I sat at the last seat interacting with Arko and Paras about their student life and DevRel Journey. It was learning and impactful feedback session rewinding my keys and training my neural network. Got to know about hackathon cheat sheet, and Microsoft Reactor events.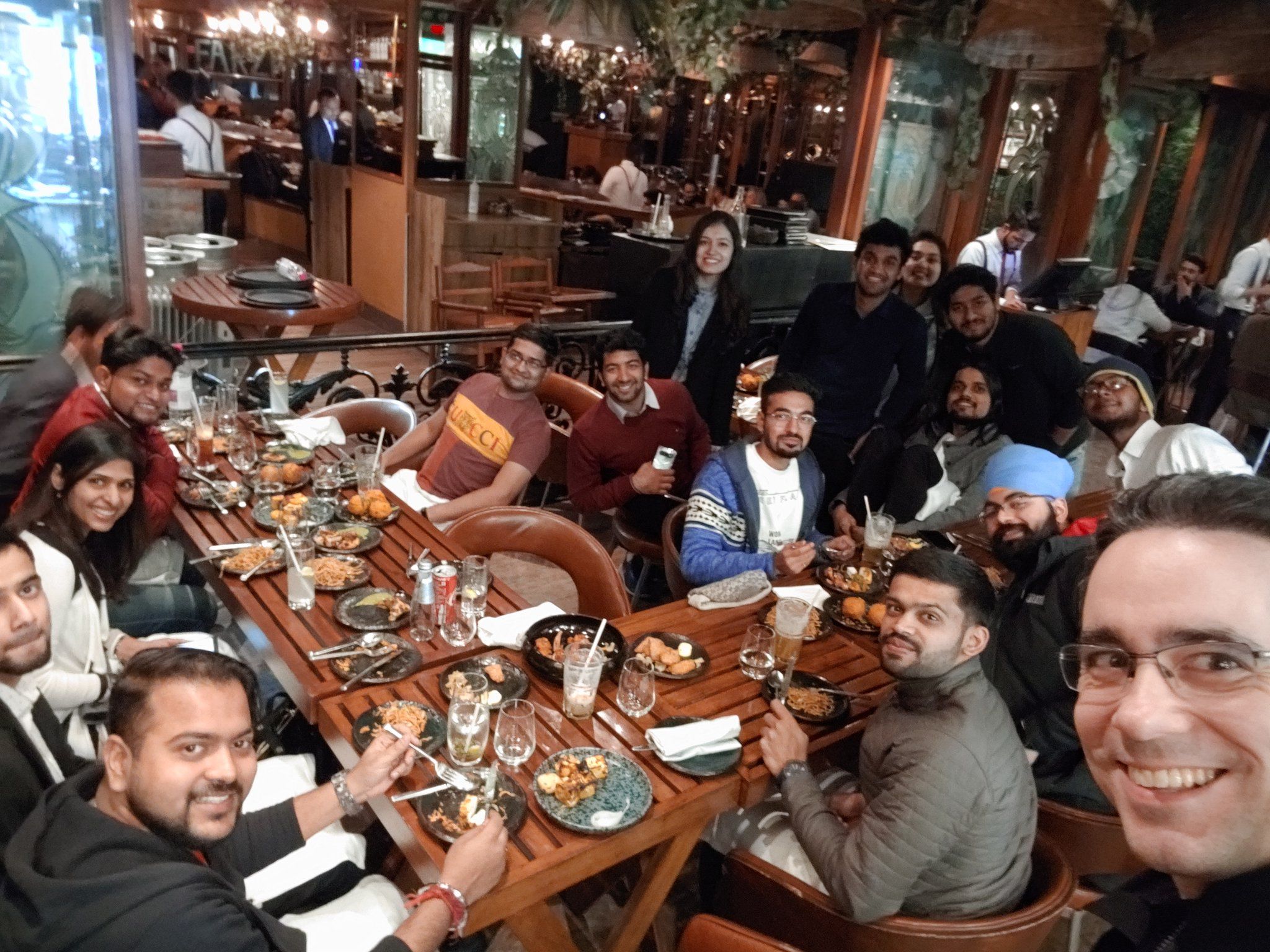 (Alternative-text: Dining table with awesome food and people)
After Reaching Hyatt Palace we took 1 Hour rest and Went to Gurugram Cyberhub, Farzi Cafe to have dinner. I don't know who suggested what to order but the some mocktail names really shared a gigs and laughs all over (I got Italian Smooch, Someone ordered Date me (yep it was a just drink)). After order arrived we took instagramable selfies and helped our hunger. I had a challenge to socialise without camera because my phone was off. We took Selfies and got back to hotel.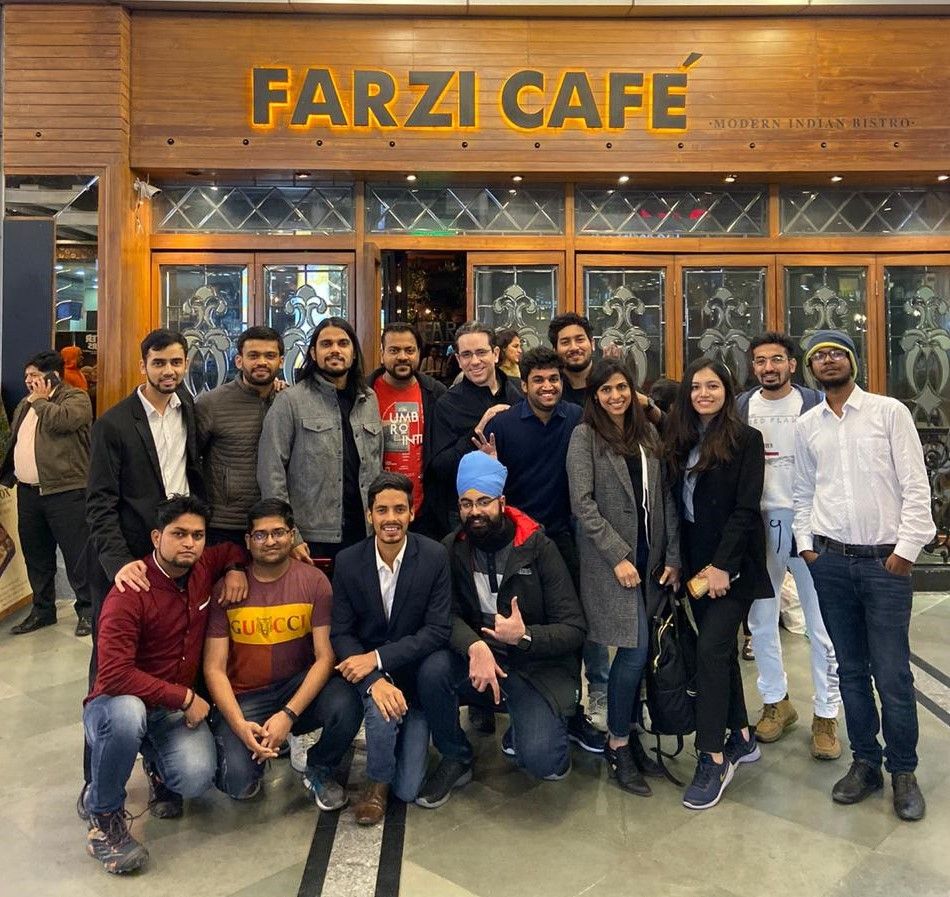 (Alternative-text: Everybody posing coool)
In the bus where there were no officials anymore, all Gold MSPs opened up. We shared same struggles of daily routines, I got to know how diverse was every background and they were really knowledgeful, sarcastic and infectiously Energetic. We organised an UnOfficial party at room no. 420 (Really Contingent, Capricious and Whimsical Number lol ) and enjoyed comfortable talks till the late night really forgetting about tomorrow's event ( MSP India Summit ). Later Arko and Paras joined in 420 and shared small and W I D E talks. We then dispersed to our rooms after promising that we'll wake each other UP. ( I secretly added a alarm to wake myself )
---
**DAY TWO**
The alarm rang and I turned it off ( How dare a app to wake me up from a goddamn good matress and chilled environment) and Went to bed again. I admired the view outside the Window when sunlight touched my cheeks and side face and whispered to me in ears, "BRO, wake up the f*** up, You'll miss the most important meal and the Important event of the day".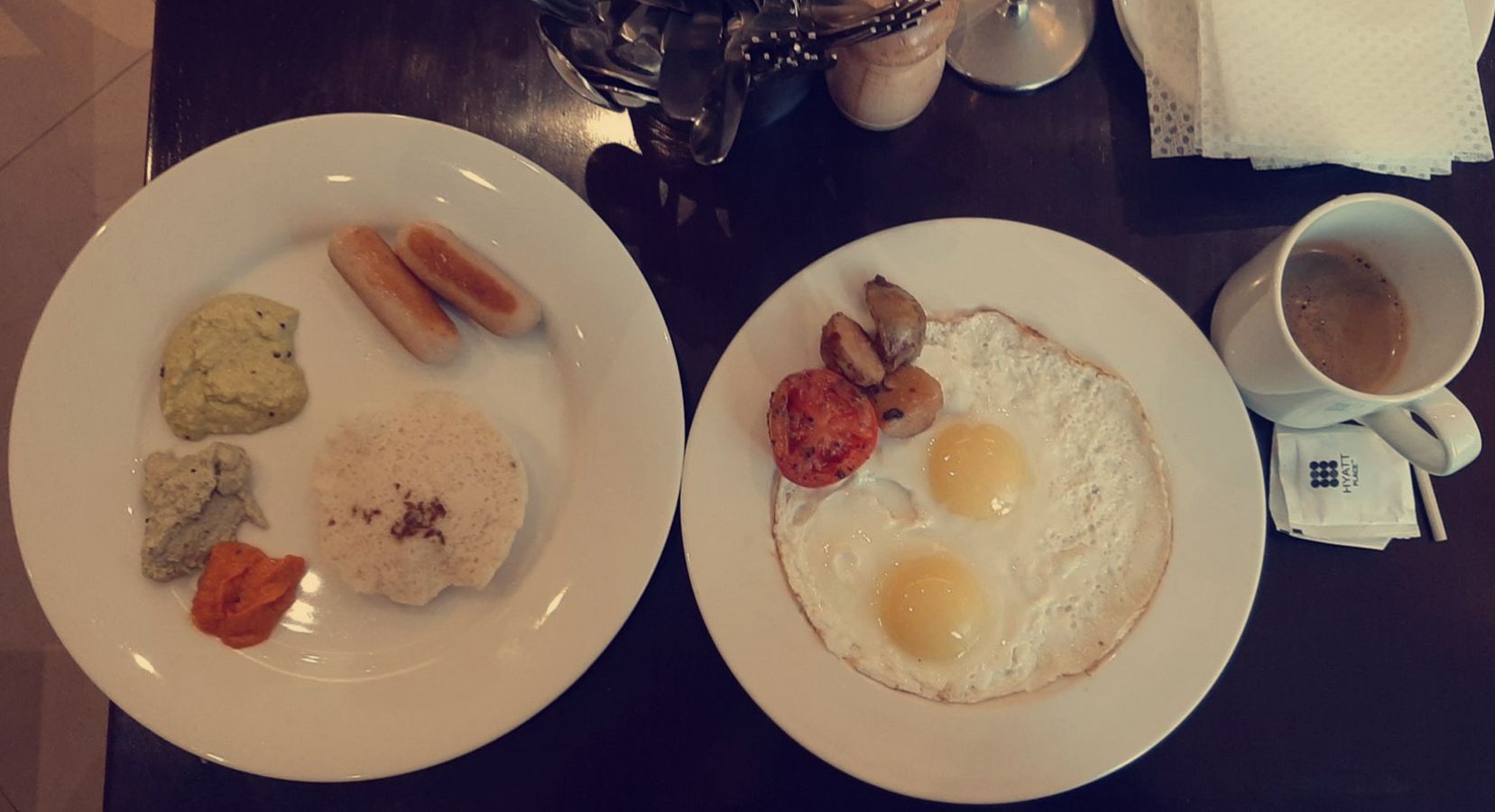 (Alternative-text: My Signature Breakfast lol )
Thanks for the laziness, I was running late by 30 mins. I bathed went toilet and dressed in 15 mins, run towards the hallway to wake everyone up and got to know I just know one room and that's 420 lol.
I met Pablo, Rishabh and Kushboo having breakfast and didn't knew whether i was too late or too early. NVM I grabbed my signature breakfast I eat in Business stays so that I don't waste my time choosing items from the long long menu.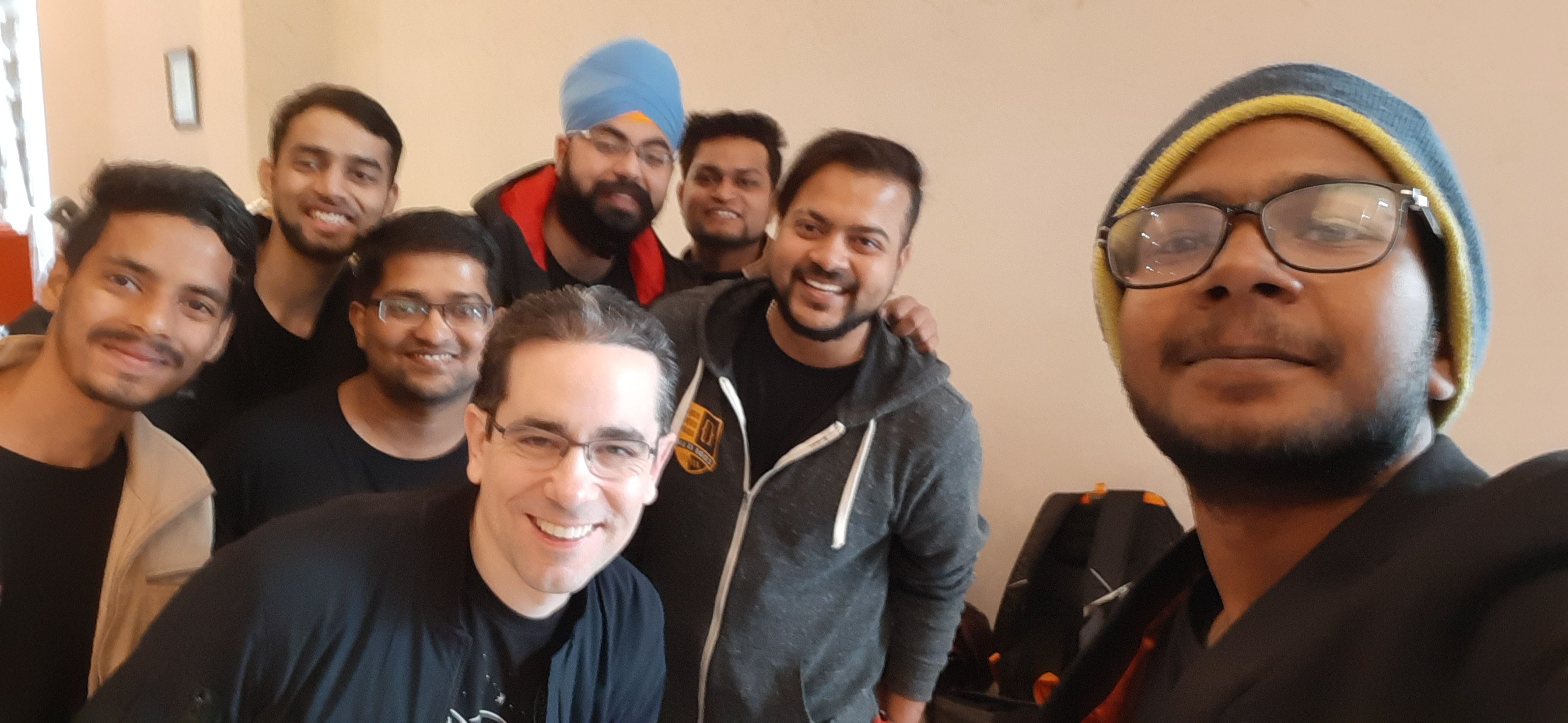 (Alternative-text: Energetic MSPs on the way to MSP India Summit )
Bus started and we were on our way to MSP India Summit. Now I gathered all my courage to go ahead and talk to Pablo, because he might miss my Mail later (Just kidding). Shared my story on how I became a Microsoft Student Partner, I installed twitter to follow Gabe Aul in early 2014 just to know when the next Fast Ring insider preview was shipping to my Windows 10 Mobile. Got his book recommendation and I had my homework done (It's Hit Refresh). How I shared a room with Satya Nadella (okay there were 400 people) and was because of Microsoft Student Partner Program in 2017. In 2015 when Dona Sarkar tweeted what do you wanted to become and I tweeted that I would love to join Microsoft mission and would never knew I will end up in this beautiful program.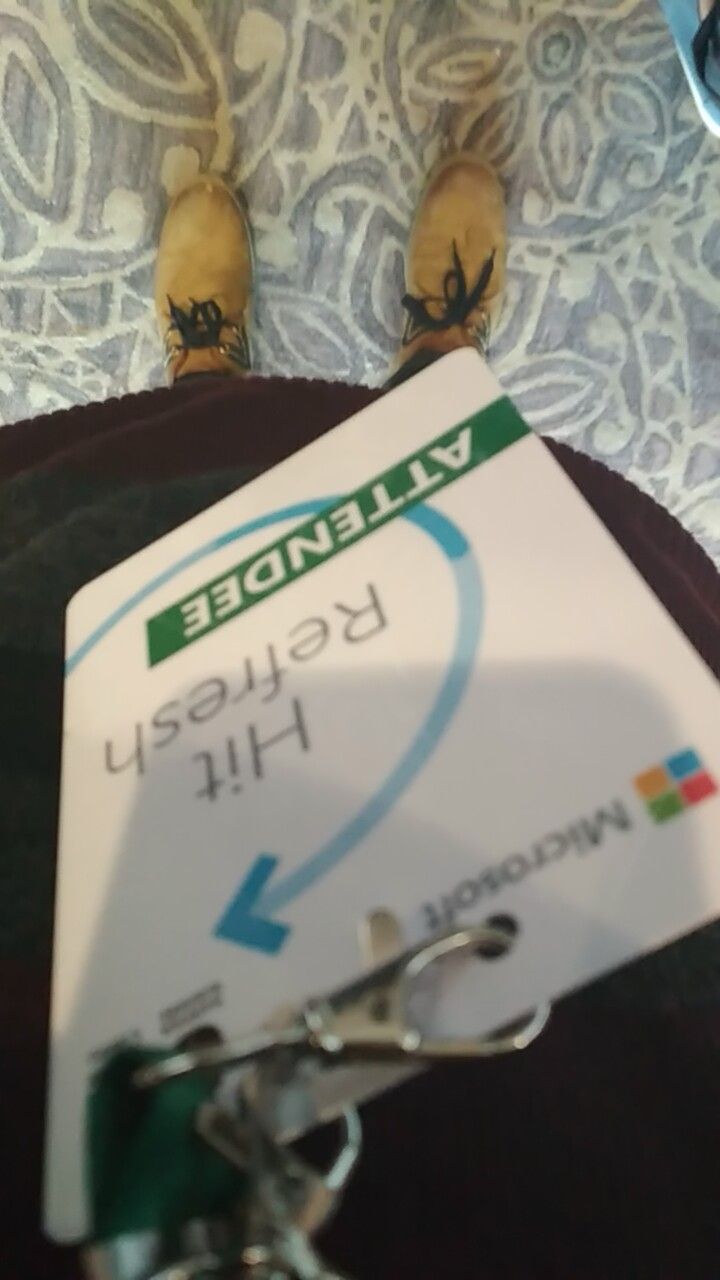 (Alternative-text: Hit Refresh attendee badge. You can watch the event (https://youtu.be/1fHVcQf1dC8) , It'll surely change the way you see life and Technology) I recommended him Inside Bill's Brain (Netflix Documentary on Bill Gates) (Great series, What can you expect from Netflix and Bill gates, has some stories on eye opening solutions from bill gates after Microsoft (Eradicating Polio from the world)).
**Flashbacks till we reached Le Meridien**
My story on getting my hands dirty in Windows 98 when I was 7 years old, I got to know harsh reality of Racing games, they didn't use arrow keys but W/A/S/D to move. At that time, sometimes I was unable to find a letter in keyboard and blame the computer shop for it (found it ofc). Microsoft was the platform enabling me. The first tip I got to know was ctrl+'+' made eraser bigger, and we can play with trackball found under mouse.
**Present**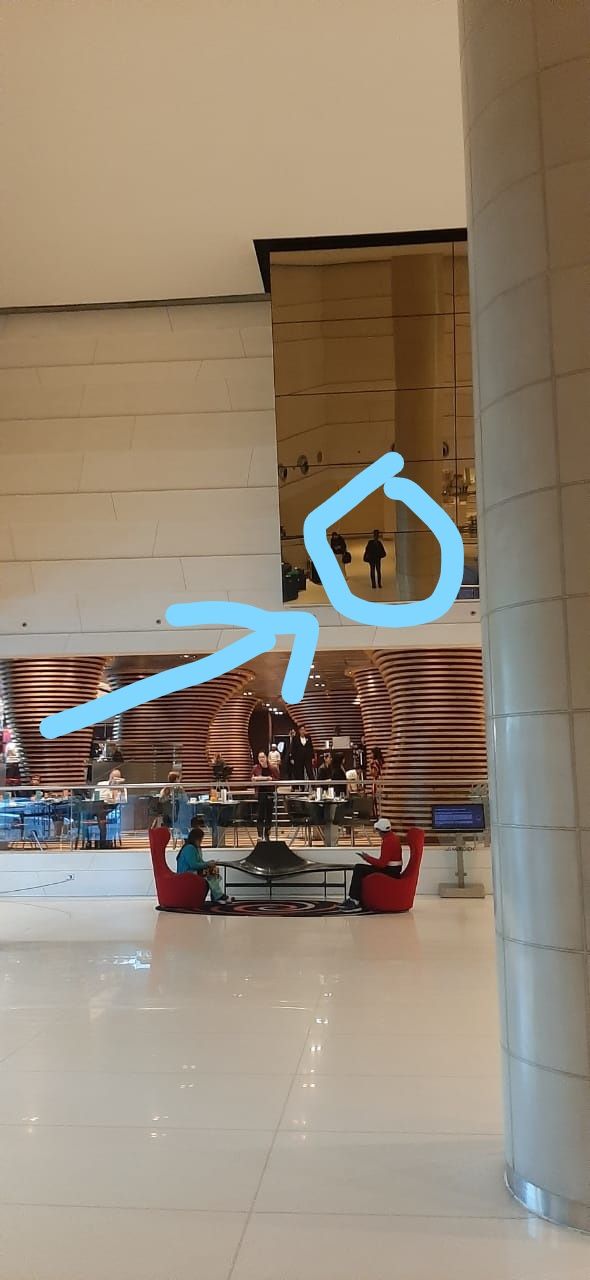 (Alternative-text: Look at me, I'm So Smol)
It was a Big Place and I was really smol comparatively.
Reaching at registration desk I saw beautiful volunteers distributing IDs, Certificates, Swag and making sure the event happens smoothly. Entering into hall, Jasmine aroma was in the air and most of the tables were occupied with passionate student partners, small jasmine pots, a cup full of refreshing toffees and pen paper to take notes. Okay Gold ones took place at the last corner table, everyone had their bags stuffed with swags. I was feeling little too excited to meet everyone out there, I came from the same background, Started learning beautiful OSS technologies afterwards.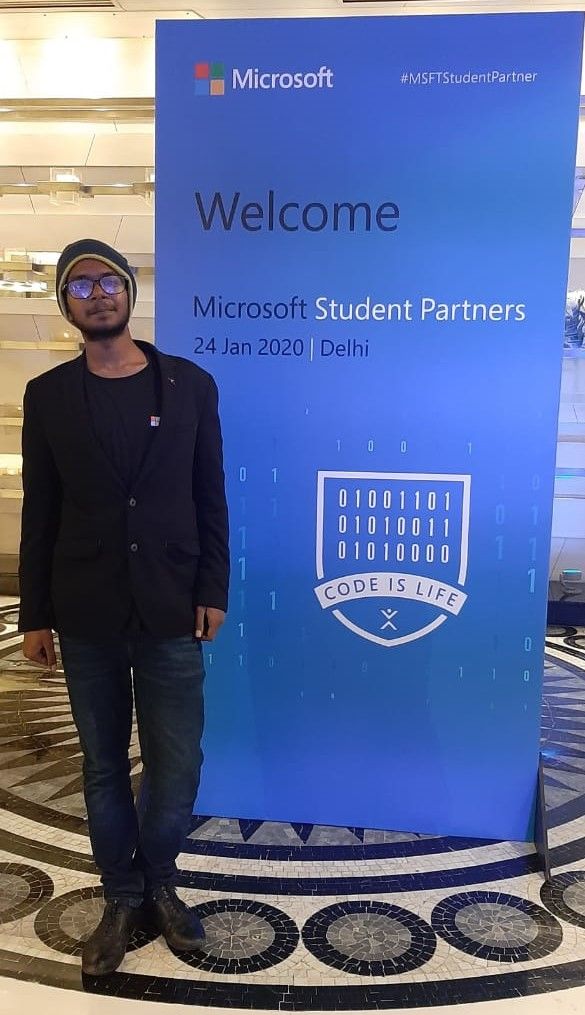 (Alternative-text: Yep, That's me)
I then went to every table interacting with them, getting to know more about diversity and they were here from different parts of world, someone there was on early stage of their startup. I met my awesome Junior's from College (Kanishk, Sumedha and Mayank). I met Akshay Koshti whom i met in pune insider tour he hosted me very well that day, many were into technology and all of them were united by the MSP program.
Reaching around stage I once again had fan moments, OMG, MSP Summit organisers please let us know who's coming before event, so that I could control my excitement. They were Senior Cloud Advocates of Microsoft.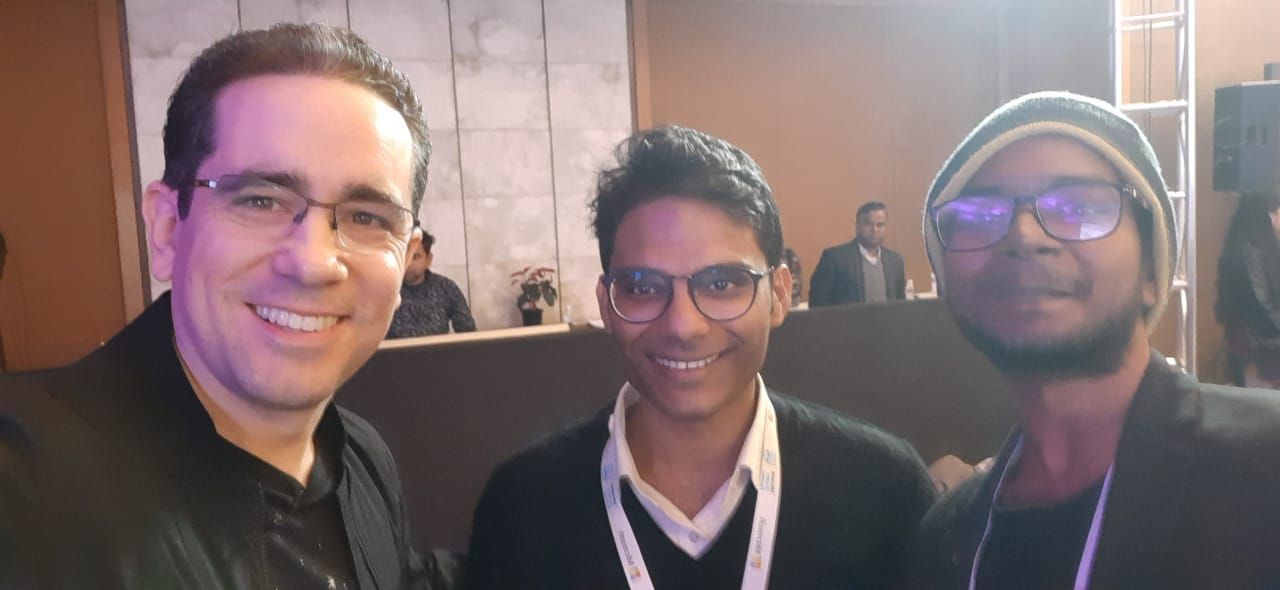 (Alternative-text: Me, Abhishek Gupta sir and Pablo sir)
I met Abhishek Gupta, I grew so much reading his blogs on tech that's new in OSS world and writing documentations and starter codes to interact on tech, Dapr, Serverless Driven runtime, kubernetes and Docker. I introduced myself to him as BIG FAN sir, Pablo sir said hey he is a gold MSP ( and I felt a loooot cool ).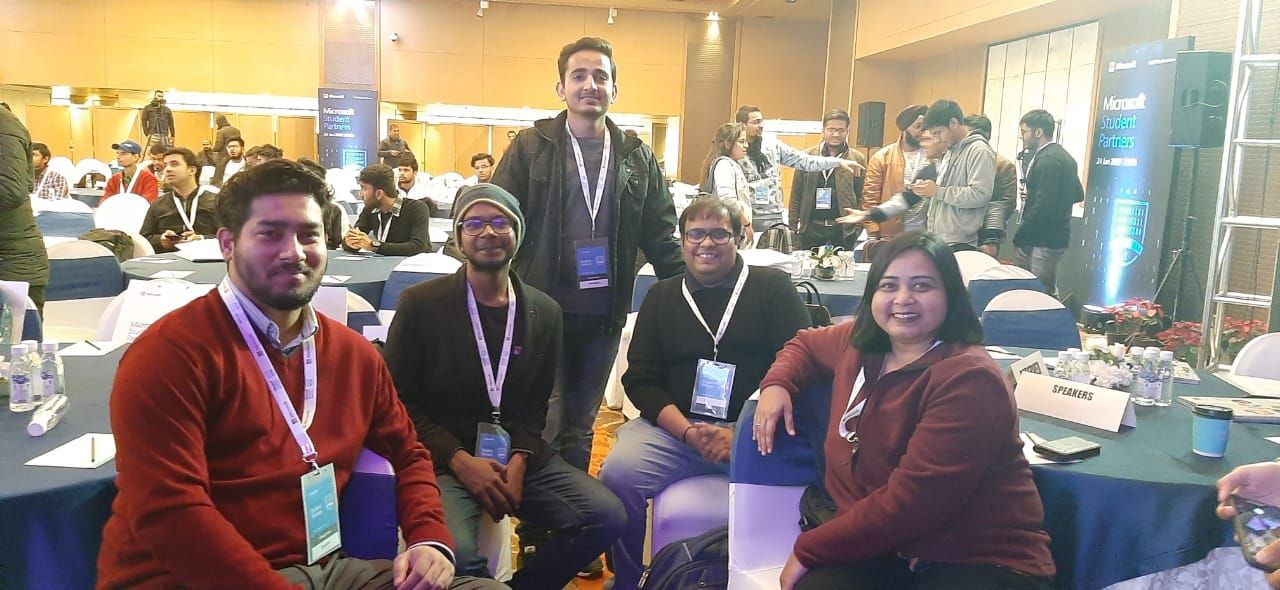 (Alternative-text: Arko sir, Vivek sir , Pragati mam and Naveen sir in one frame)
Next up Vivek Sridhar, DevRel @ Microsoft, He mentors and organises awesome hackathons, The First MLH Hackathon in APAC which was also organised in Jaipur, He was a mentor there but I couldn't meet him because I didn't had laptop that time. nvm he is standing in front of me now, I took no time to take a pic with people that inspire me a lot.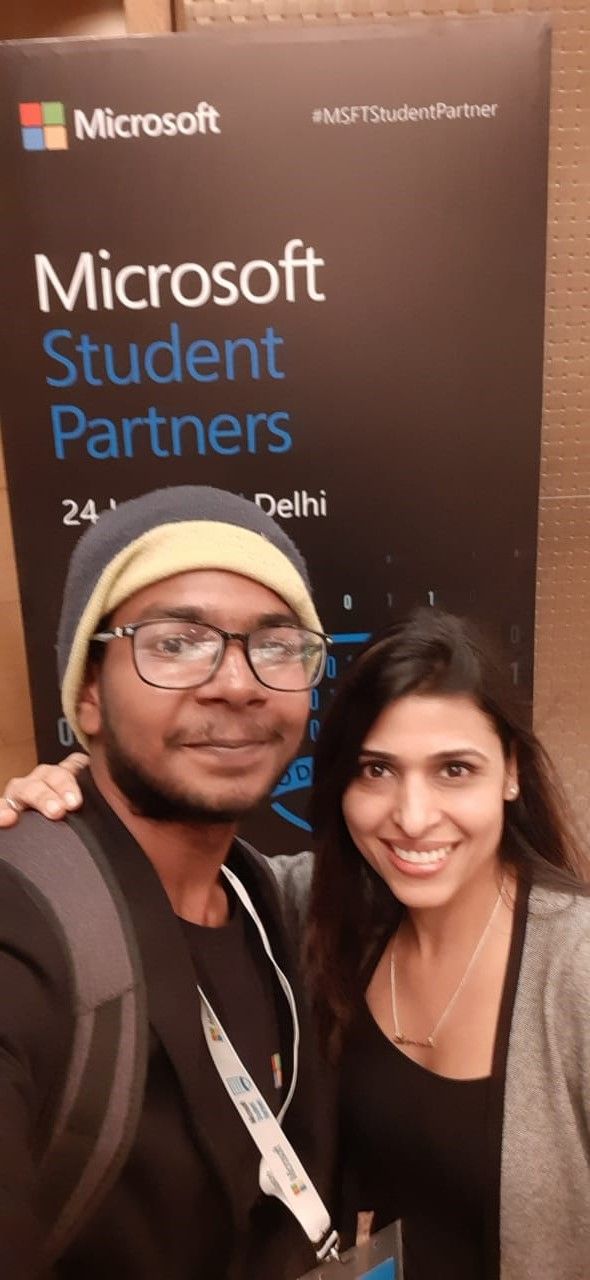 (Alternative-text: Aparna Mam)
I understand what's it like to lead these number of students in one of the most challenging, diverse and passionate students, kudos to our CPM Aparna Mam who took the responsibility and excelled on it.
Next I met someone I've never heard of and she was the one in 1,50,000 I should've known, Pragati Ogal Rai.
I was selected by Rajasthan Govt. for top 25 Innovative young Startups for 15 Day trip to Silicon Valley and Had my US visa rejected 2 times ( LOL ) and Was luckily invited to India Tour. In India tour I went to 25+ organisations ( Google (Customer Obsession) , Amazon Web Services (14 Leadership Principles) , Adobe ( Experiences ), Mercedes Benz research (Nothing but the Best), Walmart, Infosys etc.) and 4 Cities in 15 Days and my favourite Microsoft was not part of that tour (😭) . But yeah world is too typical for Coders, Geeks and Techies like us. No matter I was a MSP and could teach and tell stories by then, I was IMPERFECT and didn't know how to pitch my startup in tight constraints (2 mins, 1 min). I got to know there's one beautiful thing that weaves people in an Organisation and that's CULTURE. All those organisations had their culture defined and I knew much about Microsoft from Hit Refresh book.
In the microsoft room yesterday there was a link below the poster how wide is your perspective it was aka.ms/culture , I know not anyone can open it ( 😢)
* Present *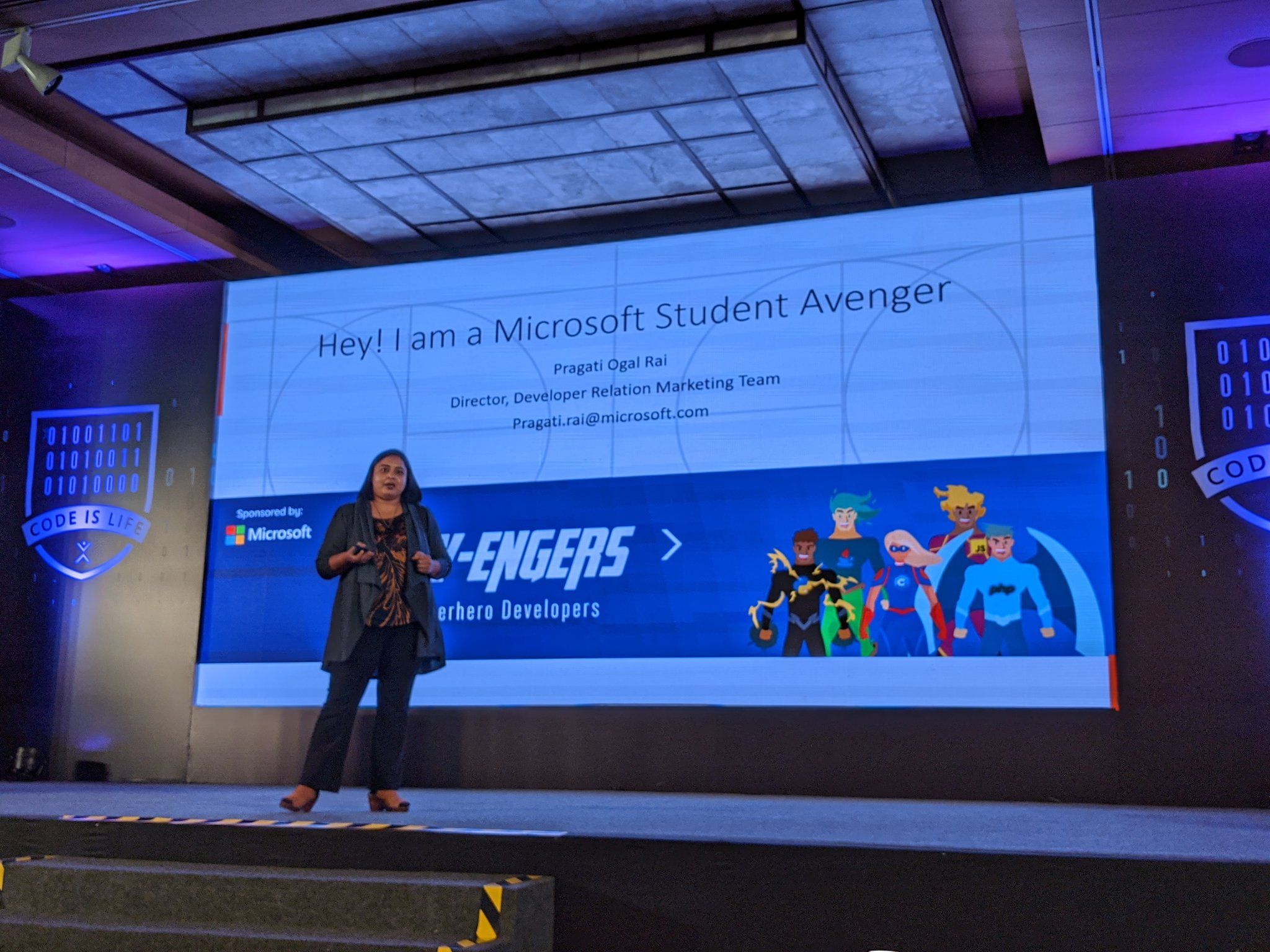 (Alternative-text: Pragati mam on stage, "Hey, I am a Microsoft student Avenger)
Pragati Ogal Rai mam Takes up the stage, She is the Director of Developer Relations and taught
Devengers, "More than Normal, But Believable"
A great Sense of Purpose and Responsibility
Microsoft's Mission, "To empower every Person and Organisation on the Planet to achieve more"

1

- Drive your Passion around it.

2

- Get involved in OSS projects

Identify and Sharpen your Superpowers.
Make tech easy for People and Be knowledgeable.
People centered Experiences with AI, by handling ubiquitious computing and AI
Master the Art of Communication and learn the art of listening.
Be Proud (but have a Moral code of conduct).
INTEGRITY , RESPECT , ACCOUNTABILITY
Everyone then started having food and I continued to interact with people. I took a deep breath to see all of the awesome things in one place, it was a good day. Someone made a hardware detect breast cancer, someone there was Imagine Cup world finalist and they all inspired me a lot. I thanked everyone for coming there.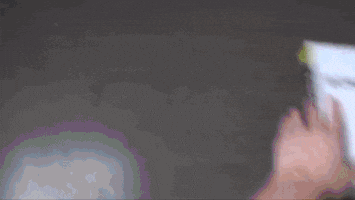 (Alternative-text: Doggo on learning Azure Pipelines)
Event Started again, I had my homework done so I flunked classes to interact with people and roam around, sorry ;p Docker, Kubernetes and VSTS ( aka Azure DevOps ), but I know it was really insightful for MSPs.
Everyone had awesome Supper and then had networking, and had awesome pic, we all shouted Code is Life and then parted ways to their home, I went to meet my uncle.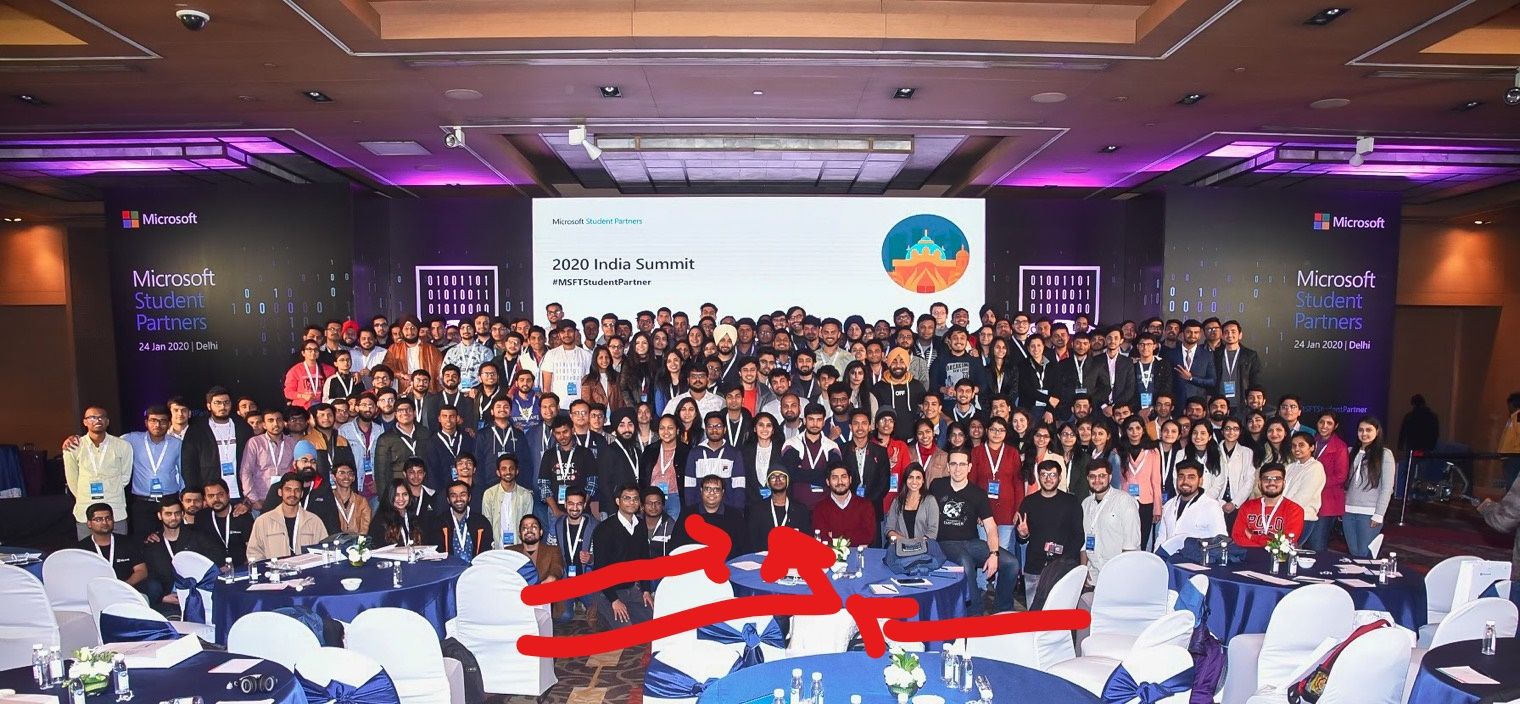 (Alternative-text: Whole MSP India Family, Red Arrows indicate me)
I lost my MacBook Pro (I learnt 6 Languages and won 8 Hackathons with it) 8 months ago while cleaning it and now it was time for me to get a new laptop and it was hard a really hard decision me. Aparna's swag made it easy ( Pen ), I went ahead and switched to Surface Pro because of WSL2 being shipped in Insider slow ring (Thanks dad for empowering me).
It was a one in a million Experience I've Lived in my life yet, thankyou so much MSP Program. Kudos to first batch of GOLD Microsoft Student Partner (13 out of 700 MSPs in India).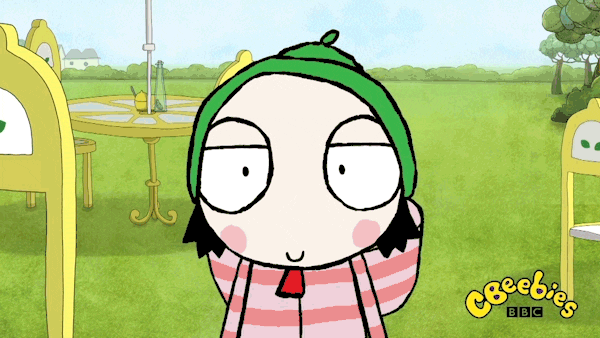 (Alternative-text: Follow the leaders lol) MSPs make sure to follow their lead (I've added thier twitter links ).
---
Thankyou so much for reading this blog.
Interacting with these Many students impacted me a lot and I started to think about they might have the same challenges as I did, where I felt someone was needed by My side to motivate and guide me. I commit to help you debug your code , Debug and rethink about life and offer all my ears to you for Mental Health, FREE for students with privacy and stories burned by my side.
Schedule a talk here → heyayush.as.me
Pls Subscribe and Hope to see you in next blog on Code spaghetti 🍝.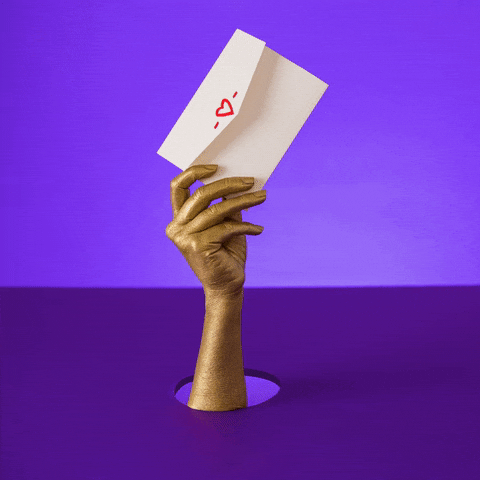 Bye 👋
---
If your content or visibility has been tampered due to my perspective or listening, please do let me know, it'll help my writing skills too.
If anyone is offended or need the specific content about you removed, please feel free to tell me at heyayush at Outlook dot com